I can't believe it's almost a year since I held my BabyLuv for the first time. It's just been a year, and I already am wishing I could turn back time when she was really little. Have anyone experienced something like this, too?
For one, the jitters is caused by all this birthday party preparations. Secondly, it's now I realize that you really have to savor each passing moment with your little one because time flies by too fast!
Well, we decided to prepare the birthday celebration ourselves, instead of hiring people. First of all, the reason we decided to do all the work is to save our hard-earned money. Second is because we want everything personalized.
The theme that I chose for the birthday party is Care Bears. Although a newer version of the Care Bears is the new thing with kids these days, we decided to stick to the original ones. Well, I just find them cuter. But, I still can't deny the new version is cute as well.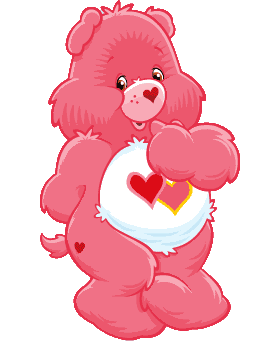 Love-a-Lot
Also, since we call our lil' angel "BabyLove", her main character is Love-a-Lot. Well, because she's pink and has two hearts on her belly. That is what we chose for her birthday cake and her pi

ñ

ata (I will be posting a picture of it after the party). For those who don't have any idea what a pi

ñ

ata is, click here to learn more. Fortunately, my mom is so talented and gifted with making pi

ñ

atas to the point that a lot have already recommended her with her works. So, I will definitely be showing you guys her works as soon as I get a photo of it.
Invitations were also made by us to add an extra personal touch to it. I will definitely be updating this blog to show what we came up with.
Well, I just decided to take some time to take a break since it's been a loooooooooong time (did I emphasize that enough to understand? Haha) since I last posted. Well, it's not as if I have a lot of readers already, but, this is an outlet to relieve me of my stress and give me a break.
So, Ciao for now.
Cheerios!

Add it to your boards!